Just last month I had the wonderful opportunity to visit some Girls' Education Challenge partner schools in Zimbabwe, as well as schools supported by the UK Foreign, Commonwealth, and Development Office's (FCDO) Teacher Effectiveness and Equitable Access for Children programme (TEACH). The GEC has funded three projects in Zimbabwe including SAGE, Supporting Adolescent Girls' Education. SAGE supports some of the most marginalised and vulnerable out-of-school girls to gain functional literacy and numeracy, build their confidence and transition into formal schooling or secure meaningful livelihood options.
The visit took me to some of the more remote communities of rural Zimbabwe. Beautiful, isolated places, far from towns and larger cities, with infrequent and expensive public transport options to access government hospitals and other services. Over the years, schools in these communities have received funding from government and development partners to build and maintain teachers accommodation. In such rural and remote places, filling a teacher vacancy can be difficult and the offer of teacher accommodation is a major incentive. Schools are supported by government and development partner funds, and often local community labour in the building of teacher housing and other school infrastructure.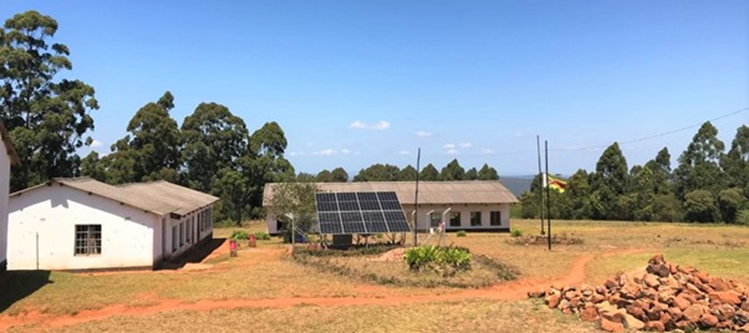 Solar panels installed in rural schools in Zimbabwe
I was lucky to be invited into some teacher's homes. What image does a teacher home bring to mind for you? A two-bed apartment or house, with a kitchen, living room and a bathroom? Whilst many readers might reasonably expect this, the reality is that a teacher home can often be a small single room, kept impeccably clean and tidy, but sparsely furnished with perhaps a mattress, a chair, a few personal items, and a plastic bucket or two. No running water, no power, no lighting. Cooking outside in a small, thatched space with a circle of stones to place your pot. Latrines a good distance away and difficult to navigate at night. Limited or no water supplies within the school grounds, meaning managing day to day cleanliness and menstrual hygiene is challenging.
The teachers I met were mostly women. Young women who had chosen to leave their homes and communities to take up a teaching post, to share their knowledge and skills with children desperately in need of a good teacher and a quality education. All of them were happy, enthusiastic about supporting their students to learn and had built strong connections within the school community. But in some ways their lives seemed to be on hold. Long periods without contact with their families, limited opportunities to socialise, they wondered about meeting the right person and the prospect of starting a family of their own. I'm sure you will agree that taking up these roles in remote locations is quite a sacrifice to make, and providing adequate teacher housing is vital, to support teachers to do their job well and stay motivated.
We ask a lot of our teachers; we expect them to prepare and deliver interesting lessons, to know their students and understand their learning needs, to create and maintain conducive learning environments, to ensure that every child reaches their learning potential, to provide psychosocial support, and to continue to develop their own knowledge and skills. It's a tall order under the best of circumstances. For the teachers I met it's a day-to-day struggle, with limited access to teaching and learning materials, they rely on their creativity and resourcefulness. Even with a smart phone, which bring access to online content and resources, lack of power at the school site means charging your phone involves the time and cost of the journey to the nearest town and the charging fee.
Recently, the UK's FCDO has provided funds through the TEACH programme, and specialist technical support, to enhance the learning environment of schools for students and teachers, by installing clean, off grid energy, in the poorest of government primary schools in selected provinces of Zimbabwe. Phase 1 of the programme is providing solar power systems to power classroom lighting and fans, a digital hub with an off-line serve and charging points and basic power for teachers accommodation. Adding a single light source and a double plug socket to a teacher room has made all the difference. The teachers I met were absolutely thrilled with the prospect of having a light that they could use in the evenings to do their lesson planning. To be able to charge up their smart phones or other IT equipment for free and without having to make the costly journey to the nearest village. To be able to charge a torch or a radio. It's clear that within a few weeks of the solar power coming online, teachers personal and professional lives are impacted in so many positive ways. I'm convinced that these kinds of installations, will transform schools and communities over time, and encourage more committed teachers to relocate.
Solar installations can last up to 25 years when properly maintained and the great news is that is it not just schools who benefit from the programme. Support also extends to the wider school community, with a separate lockable energy kiosk allowing phones and small items to be charged. Taken as a whole, the solarization programme provides a remarkable long-term solution to no, limited, or unreliable power supply in remote locations.
Recognising how central teachers are to student learning and development, many GEC projects provide much needed support to teachers continuous professional development. This can often be focused on teaching and learning, ensuring lessons are well planned, teaching is effective and student learning is assessed. Some projects have directly addressed socio economic barriers for teachers by providing transport, stipends, loans, and linking teachers into peer support networks.
I can't help thinking though, how important it is to design projects with teachers personal as well as professional needs in mind. Imagine for a minute, just a minute, how motivated and productive would you be, if faced with the same challenges that these teachers in rural Zimbabwe and elsewhere around the world face very day? It's a sobering thought and one that motivates me.
The personal sacrifices and resilience of these hardworking, skilled teachers is extraordinary, isn't it. Perhaps it's time to revaluate, rethink, and redefine what matters most. We talk a lot about value for money these days and rightly so. My journey to Zimbabwe, SAGE's work, and the FCDO solar project remind me what value for money truly is and how transformational some projects can be.