Each year, International Women's Day gives us an opportunity to recognise the women who are working within their communities to teach, support and inspire girls, and make sure that they receive a quality education. This work has never been more important. We already know that in the last year, the COVID-19 pandemic has disproportionately disadvantaged girls and women. Girls' Education Challenge projects have reported that, due to the closure of schools, girls have been engaged in economic activities to support their families, limiting their opportunities to learn. They are at greater risk of sexual violence, child marriage and early pregnancy, and many girls are also now at greater risk of dropping out of school permanently.
All the projects in the GEC, working across 17 countries, recognise the risks that face girls returning to school and are working hard to minimise the impact of COVID-19 on learning. In many communities this work is being driven forward by female teachers, relatives, and community workers – essential supporters and role models for the girls and young women. In this blog, we recognise just a few of the women who have been working before, during and after school closures to support girls learning, address the additional challenges created by COVID-19 and ensure that gender is not a barrier to receiving an education.
'Big Sister' Bimala, Nepal
Sisters for Sisters, VSO
Bimala Adhikari, 20, is a local volunteer who has made a huge difference to the girls she mentors during the COVID-19 pandemic. Based in Lamjung, a district in central Nepal, Bimala mentors 21 younger girls, her 'Little Sisters', on VSO's Sisters for Sisters' education programme.
Bimala has continued to check in with the girls in her community throughout the pandemic. This has proved particularly important at a time when children are spending more time at home, with reports indicating an increase in child marriages and child trafficking.
"Due to the nationwide lockdown, we were unable to meet the Little Sisters face-to-face as some of them live far away," says Bimala.
Instead, she stayed in touch with the girls via telephone, championing and supporting these girls at a time when they were isolated and at risk. "I was able to [continue to] visit the Little Sisters that lived close by, maintaining all the precautions like wearing face masks and practising social distancing," adds Bimala.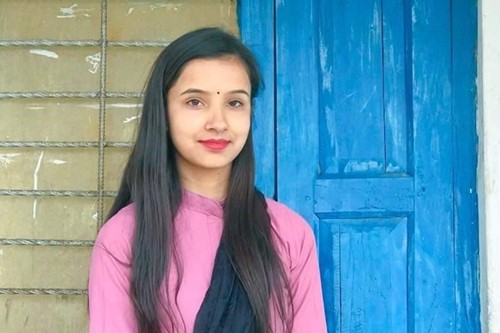 As schools begin to reopen in Nepal, girls are being supported to re-enrol. One of the girls, Ishya, 18, dropped out of school but was helped to return thanks to Bimala's support. Ishya's parents had not been able to afford school fees. Instead, she spent long hours completing household chores. Bimala petitioned the school to waive Ishya's tuition fees. Through VSO, Ishya received stationery, textbooks and school uniform and began to do well in her studies.
The 'dream team': Gafat Primary School, Ethiopia
Excelling Against the Odds, ChildHope and CHADET
Fetfte Mengesha and Emebet Muche are a girls' education dream team: two women who are passionate about supporting girls not just to get to school, but to thrive in school.
Sports, art and music teacher Fetfte has been teaching for 17 years and she has worked at Gafat Primary School for eight years. She is known as a 'focal teacher', which means that she has been trained to offer emotional and practical support to girls who are struggling in school.
As a community volunteer, Emebet plays a crucial role in the safeguarding of the 210 girls attending Gafat Primary School. She loves her job. "I'm supposed to come in three times a week, but I come nearly every day," she says. "I'm a woman and I want to stop violence against women."
Emebet believes that the project has created "tremendous change" for girls' education. "If a girl missed class no one would bother [about this] before the project. Now there is a close follow up of girls missing classes. We go home to home and discuss it with parents and get the girls back to school."
All schools supported by CHADET have a Letter Link Box where students can discreetly report cases of harm or abuse or risk. Twice a week, Emebet and Fetfte open the box together, recording and discussing the problems and deciding how to tackle them. Some cases are dealt with within the school, while others require them to go out and talk to people in the community. They have worked with parents to stop early marriages so that girls can continue learn. They have supported the return to school of girls who had left school for employment, or those being kept at home because of a disability. Attitudes to girls' education don't change overnight. Emebet and Fetfte have worked hard to build relationships with parents and carers. "We have very private, family-focused interventions," says Fetfte.
Emebet helps Fetfte run the Girls' Club after school where girls learn important life skills. Afterwards Emebet accompanies girls travelling long distances home to ensure they stay safe.
Emebet and Fetfte are very proud of the girls they are supporting. Not only are these girls scoring top marks, they are becoming confident, proactive young women. "They are very active in any event which is run in this school – they are the stars!" says Fetfte. "They are the presenters. They are the speakers. This has really made me proud about what I am doing."
Getting girls back to school, Kenya
Education for Life, Action Aid
Rael Nyahiri is 24 years old and an Educator Facilitator at a Catch-Up centre in Kenya, helping girls acquire knowledge and skills and ensuring that the teaching and learning environment is safe and that learners are treated fairly.
"I have 32 girls at my catch-up centre. When I am teaching, I always encourage my girls to respect each other and be responsible. Sometimes, we discuss about life skills like confidence, assertive and human rights. In these discussions, we learn how to listen, appreciate our differences, and share our life experiences."
During the COVID-19 lockdown last year, things were difficult for Rael, her colleagues and the students. The learners were given workbooks to take home when catch up centres were closed. Rael would call girls and visit them, under strict observation of Ministry of Health guidelines on COVID-19. During home visits, she could teach only one girl.
After close to six month of school closures, the government eased the guidelines for gatherings and this provided an opportunity for girls to assemble once again. The project put in place strict guidelines on a precautionary and gradual return to school. They supplied Rael and her colleagues with masks, sanitisers, disinfectant, soaps and handwashing facilities to ensure everyone's safety while at the centre. At this time, Rael started to teach a small number of girls. The girls were very willing to learn. They wanted to finish the course and were ready to explore different pathways after education. To ensure the girls carry on learning, Rael visits their parents to discuss the importance of educating girls in the community.
"As of today, I have helped 32 girls to transition to their preferred pathways and identify artisans who will support them. I would like them to have a better future and use the knowledge, skills and values they have learned to contribute to their community. I want them to become independent and have livelihoods that can support them and their families. I would like them to be responsible girls who can determine their destiny."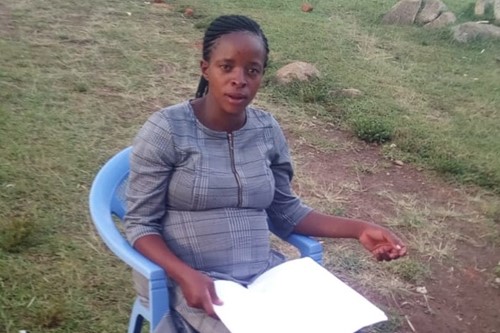 These are just a few of the stories of women working within their schools and communities to ensure girls are able to continue their education and stay safe and well. You can find more stories on our Twitter account @FCDOGEC as we continue to celebrate International Women's Day and #ChoosetoChallenge the barriers that stop girls learning.