"Education is one pillar that helps in realising women and girls' rights. The more girls go to school, the more they are retained, the more they transit to the next level, then there is a higher chance that they will reduce their vulnerability, be able to put food on the table, and to be able to make decisions about their life."
Violet Muthiga, Sauti ya Wanawake
Over the last few weeks, I have spent time interviewing women from feminist organisations who are engaged in the work of the Girls' Education Challenge (GEC). These organisations are some of our most impactful 'downstream partners': local civil society organisations (CSOs) who work with our lead implementing partners to deliver the work of the GEC on the ground.
These conversations have had a real impact on my understanding of the way GEC work is carried out within communities. They will form the basis of a paper to be published later in the Spring. But, for International Women's Day (as I sit, surrounded by notes and transcripts!), I wanted to take some time to consider – and celebrate – the vital contribution that these women and their organisations are making to the work of the GEC, and the lives of countless girls and young women.
Most of these organisations have been working in local communities long before the GEC came to town. Their goals are explicitly feminist. They want to create shifts (often dramatic) in attitudes and practices to drive forward gender equality, tackle gender-based violence and ensure that women have representation and a voice in all of the structures that dictate the quality and direction of their lives – be that within their family, their church groups or their government.
Why education?
The interviewees explained their engagement in the GEC and the focus on education as an "entry point". If the goal is to support women to use their voices, value their own insights and understand their rights, it is beneficial and effective to work with an 8 or 12-year-old girl who will take these skills and understanding and be able to participate for the rest of her life. Indeed, working with girls and boys in school – which can often be a more protective and safe environment – can provide a space to discuss and tackle difficult issues such as early marriage and gender-based violence. As well as building the skills and confidence to help them contribute to the wider movement for gender equality throughout their adolescent and adult lives.
The women I spoke with were from the following organisations:
• Apostolic Women's Empowerment Trust (AWET) working with Plan International in Zimbabwe (SAGE project)
• Sauti ya Wanawake (translates as Voice of Women) working with ActionAid in Kenya (Education for Life project)
• Janaki Women Awareness Society (JWAS) working with Street Child in Nepal (Marginalised No More project)
• Organisations working in Somalia on the SOMGEP project*
Their activities included identifying and mobilising appropriate religious leaders, negotiating with girls' husbands, ensuring support for young women's businesses and mobilising conservative communities to have conversations about norms relating to early marriage. These actions have resulted in more girls going to school – and staying there. It has also made fundamental changes to how families, schools and communities think about the role, status and power of girls and women.
Why are they able to make such a difference?
One of the main reasons these women's rights organisations have been able to have such a positive impact is the deep knowledge and connection they have with the communities within which they work. Indeed, many said to me, "We are the community". One interviewee gave the example of a team member who had worked with the family of a teenage mother "day after day" to work out a childcare solution so that the girl could return to school – something larger organisations do not always have the capability or relationships to do. During the COVID-19 pandemic, the fact that these organisations were embedded in the communities, struck by school closures and restrictions, meant that project work could still be delivered, through permitted home visits, the distribution of materials and the additional safeguarding of girls unable to leave their homes.
Many marginalised groups are only open to local and familiar CSOs and their staff. In Nepal, the Muhasar communities were disillusioned and resistant to change. It took staff who were from the community to involve and persuade families to allow their daughters to attend school. They engaged community members deeply and frequently. For example, JWAS made sure that they invited individuals who held discriminatory or hesitant attitudes to be part of the learning centre management committees. This meant they were exposed to regular examples of the ways that girls could and did progress, and the benefits this brought to the whole community.
This kind of deep and regular engagement is what is needed to really challenge social norms. Other partners were able to use arguments on social norms that parents could relate to and to show families examples of girls and women who had taken a different path to that trodden by most women in their communities that they could be inspired by. They grew girls' leadership skills and roles slowly, so that girls had time, space and support from critical thinkers to be able to question and challenge the accepted ideas they see around them about the role of women in society and discuss this with their friends.
Importantly, the fact that the staff within these organisations are predominantly women has been crucial. As the saying goes "you have to see it to be it". Encountering women with responsibility, a role and a voice has had a profound impact on the way women in general are perceived within the communities – by men, women and, importantly, girls.
What have they gained from this engagement?
This impact has not just been one way. The interviewees expressed how beneficial their engagement with the GEC has been. The lead organisations have helped them to develop their policies and track records. The resources they have been allocated – along with the trust and supportive relationships – have allowed for step changes in their capacity and the 'offer' they can make to girls and young women. Their capacity has also been built in other ways. Meeting GEC targets and requirements – such as around monitoring, safeguarding and the inclusion of people with disabilities – has been challenging but ultimately beneficial, instigating lasting changes in policies and practices for many of the organisations.
New relationships with government agencies and departments have also been developed, resulting in greater influence and a 'seat at the table'. The CSO working in Somalia already had fantastic connections at the national-level but relatively little knowledge of the everyday realities of rural girls and women in further-flung parts of Somaliland, and so they have benefited from this reconnection with their roots and those they represent.
Overall, the interviewees cited a newfound confidence in themselves and in their work.
"The most amazing thing that we felt from being part of this project was having an opportunity to get to those hard-to reach-areas where children had never been to school and to actually say, 'Here's an opportunity for you to have a feel of what it is like, being in school'. That was amazing."
Hope Dunira, AWET
Conclusion
So what can this tell us about the ways in which these feminist organisations can and should be engaged in work on girls' education?
We should not underestimate their role and the value that they can bring to delivering real change within communities. Education programmes and INGOs should be innovative in seeking out diverse feminist CSOs. And they should create equal partnerships that recognise the importance of the contextual knowledge and connections that these organisations and their staff can provide. Central to the success of such partnerships is the living and breathing of feminist values – applying them to every decision that is made, and reforming structures or rules that make such equality difficult (such as donors that require pre-financing or complex bid processes). Engaging these kinds of organisations can create dynamics for very different and positive conversations. They address social attitudes and norm changes in a longer-term way. The changes to the way girls' education is perceived, offered and accessed will have a lasting impact for this generation – and generations to come.
On a day that celebrates women, I am grateful for the opportunity to have spoken with such an impressive group, and to share their reflections and achievements.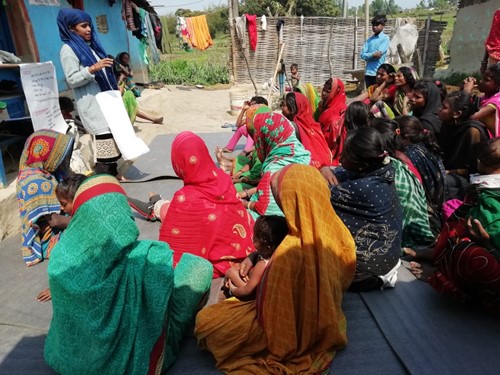 *names withheld for security
**images kindly supplied by AWET and JWAS