It's now over a decade since I first came across the Girls' Education Challenge (GEC). I had just relocated as DFID (now FCDO) Education Adviser from Zimbabwe to Tanzania in mid-2012, via a long drive through Mozambique and the length of Malawi. On arrival in Dar es Salaam, I was asked to look at GEC's initial Step Change proposals from CAMFED, to expand their work in South and East Africa.  
Through UK Aid funding, the GEC did partner with CAMFED and the rest, as they say, is history. In its second phase, since 2017, The Virtuous Cycle of Girls' Education project assisted around 270,000 marginalised girl to succeed, helping to adapt and scale its successful model of bursaries, to offset school fees and other costs, combined with a wrap of services. The support from young women mentors- Learner Guides - who keep 'giving back' their time, energy and finance to younger adolescent girls is a remarkable model and well worth a read (here).  
A brilliant spin off from the Learner Guides curriculum was the My Better World television series (MBW), an animated series following six African teenagers confronting 21st century life choices. Another GEC project, led by Impact(Ed), has scaled MBW massivel. It's been viewed 140 million times in three languages and five countries. It's Kenya's number one kids' show, popular for its use and representation of local, real young people and recently won an International Emmy award. Impact assessments show major benefits in drumming up community support and shifting mindsets to end child marriage and keep girls in school.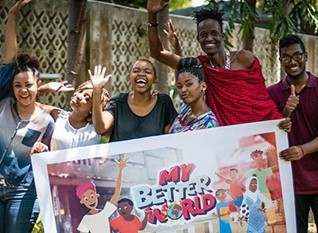 Five years ago, I moved out to Kathmandu, Nepal to support GEC's second phase projects in South Asia and apply some of the Steps to Success learning from GEC's earlier work. A key lesson was to understand the barriers and intersectional factors that hold back and prevent some of the most marginalised adolescent girls, who GEC's Leave No Girl Behind portfolio aimed to support. In the hot Terai plains bordering India I met the Musahar community, a sub-Dalit group who face bonded slave labour, violence and extreme prejudice. Activists suspended our programme until we discussed how to engage more productively with the community and I'm glad they did. After making revisions to our approach, the Marginalised no More project successfully helped over 7,500 Musahar girls to survive the pandemic lockdowns, with around half able to transition into formal schooling.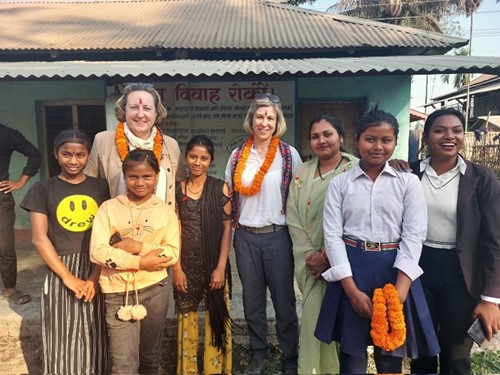 Musahar community with FCDO Minister of State for Indo-Pacific Anne Trevelyan and UK Ambassador to Nepal, March 2023
We also work with young adolescent married girls and children with disabilities. GEC teams conducted house to house surveys actively to identify those who had been forgotten, like Dharmendra, and understand how to establish learning centres that can fast track foundational literacy and essential life skills.   
Realising the power of peer networks and mentoring of young women, I organised online learning exchanges with GEC Nepal partners and CAMFED in Africa, to understand how they have levered the CAMA alumni network and build climate change awareness and action. Common challenges such as gender-based violence, poverty, extreme weather and lack of political accountability often emerged, and in our search for sustainable solutions, we hit upon the idea in Nepal to co-create the Girls and Inclusive Education Network (GIEN). With backing from senior Nepal government officials and the latest education sector plan, I'm hopeful the GIEN will assist to expand the great practice and interventions that GEC has painstakingly developed over the past decade.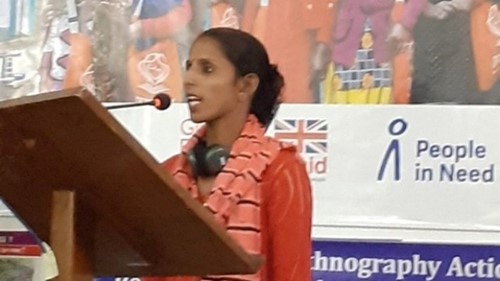 A student speaks of her return to complete high school after early marriage, April 2023
GEC results have been impressive, despite the overlapping disasters linked to the COVID-19 pandemic in South Asia, climate-induced, extreme flooding in Pakistan and the Taliban takeover in Afghanistan. GEC projects have had to pivot operations and adapt to offer continuity of education, support and protection to some of the most vulnerable girls on this planet. Learning from crisis, helps us all prepare for the future.
Girls' education, as a mission to break inter-generational poverty and unlock potential, is to me a no-brainer. My three daughters are now grown and 'flown the nest', so I've had to invest myself as they pursue tertiary education. What better cause could there be?  To quote the late, great, Apple founder, "Being the richest man in the cemetery doesn't matter to me…Going to bed at night saying we've done something wonderful…that's what matters to me".  Steve Jobs, Wall Street Journal, 1993